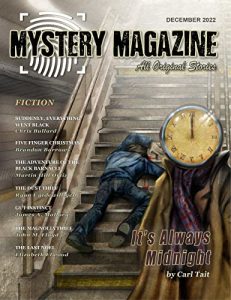 When Grannie Forbes falls face first into the Christmas pudding, no one in the family is particularly sorry, but soon the questions begin. Did someone take a hand to ensure that this was her last Noel? It was wickedly fun to write this one! Read it at: https://mysterymagazine.ca/
Don't miss this Holiday issue of Mystery Magazine. It's loaded with intriguing festive puzzles for mystery lovers everywhere!
My first Christmas present, and what a lovely surprise to see my story "The Last Noel" in Mystery Weekly!