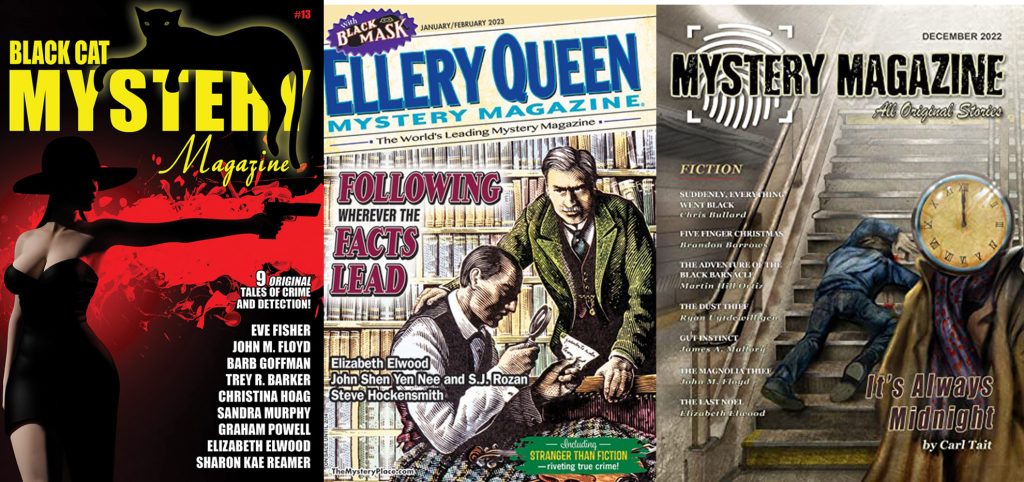 It was such an honour to see my name on the cover of these recent issues of favourite mystery magazines.  Mystery Magazine's December issue contained "The Last Noel"; the January/February issue of EQMM had "The Murder of Sir Henry Baskerville" as the lead story; and "Through the Wall" is in the soon to be published Black Cat Mystery Magazine.
Each of my stories definitely demonstrates the old saying that you should write what you know. "The Murder of Sir Henry Baskerville" not only allowed me to reminisce about the Swinging Sixties, but also let me make use of my many years of theatrical experience.  When the actor playing Sir Henry Baskerville plummets to his death from the top of a revolve during the final rehearsal for The Hound of the Baskervilles, naturally, it is the actors playing Holmes and Watson who figure out who fired the fatal shot, but it's that extra theatrical knowledge that helps them solve the case when the detective sent in to investigate finds himself stumped. All those years backstage in ancient theatres came to very good use.
"The Last Noel" in Mystery Magazine also contained lots of personal memories, this time of the Festive Season – not that we ever had a corpse at our Christmas dinner table. Still, the atmosphere of carols, decorations and Christmas baking is all very real, not to mention the family ups and downs. And could that little gripe of the hostess be real when she complains that, having slogged all day to produce dinner, once she's cleaned up and is ready to socialize, all the guests who have partied all day decide it's time  to go home?
The most recent story, "Through the Wall" in Black Cat Mystery Magazine, reflects more recent experience. When we moved to the Sunshine Coast in 2019 and hired a contractor to turn our existing cottage into a two-storey house, we never realized what a lengthy and arduous process it would be. Since our house in town sold quickly, we lived in the cottage while the work was done, and daily listened to the hammering and power-tools whining on the other side of the wall. Since the wall was thin, we heard the workmen, too, and presumably, they could hear us. If that alone wasn't enough to suggest a story, the winter months, with the wind howling through the wood framework, which at that point resembled a castle ruin, created an atmosphere that would have adorned a classic Gothic mystery. I'm so glad that the end product was picked up by Black Cat Mystery Magazine. By the way, No, it wasn't the contractor who got murdered.
You can find these stories at the links below. All three were great fun to write. I hope you will find them fun to read as well.
Home – Ellery Queen (elleryqueenmysterymagazine.com) 
Mystery Magazine | Publisher of Short Crime Fiction
Black Cat Mystery Magazine # 13: Hoag, Christina, Floyd, John M., Elwood, Elizabeth, Powell, Graham, Fisher, Eve, Goffman, Barb, Reamer, Sharon Kae, Barker, Trey R., Murphy, Sandra, King, Rufus: 9781434459947: Amazon.com: Books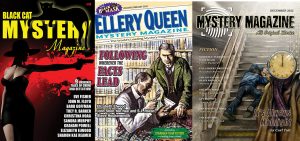 Three Fabulous Mystery Magazines