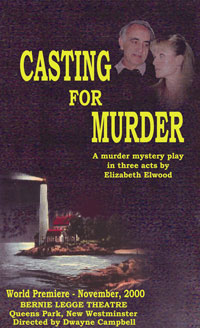 SET ON AN ISLAND OFF THE COAST OF BRITISH COLUMBIA
Angela Benson inherits a fortune when her Aunt Maud is murdered, but the killer is never found. Angela's acting career flourishes, but suspicion continues to cloud her life, even after her marriage to mystery writer, John Rutherford. As Angela prepares for the role of Amanda in Noel Coward's Private Lives, a young journalist uncovers some startling new evidence about the three-year-old murder, and John and Angela find themselves embroiled in a sinister play beyond the footlights when the cast assembles at their island home.
The setting . . . or shall I say set-up is sublime."
Andrew McIlroy, Canadian Playwriting Competition
CASTING FOR MURDER had its premiere performance at the Bernie Legge Theatre in New Westminster in November, 2000. The Vagabond Players' production was well received, and since then, the play has been produced by several other groups, not only in British Columbia, but also in Ontario and Nova Scotia.  The first production featured Michael Broderick as Bertram Beary; Donna Thompson as Angela Benson; Michael Adams as John Rutherford; Audrey Zimmerman as Charlotte Thornton; Lhesa Forbes as Susan Delaney; Ross Friessen as Derek Spencer; Ryan Morin as Steven Sanders and Sheila Stern as Adrian Wright.  The play offers some great acting challenges for both male and female performers, and is ideal for community theatre groups looking for a murder mystery with an interesting twist.