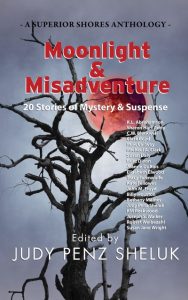 When I saw the title, Moonlight and Misadventure, the first thing that came to mind was a quote from William Shakespeare: "Ill met by moonlight, proud Titania." After all, A Midsummer Night's Dream is the epitome of moonlight and misadventure—and having thought of the play, I immediately thought back to the time I spent as a high-school drama teacher. What better subject for a mystery story to fit the theme!
I had many great memories to inspire the plot. One was slipped in early in the story. I really did have a Principal who had my studio theatre dismantled because a maintenance supervisor complained that it had not been built with union labour. It was so satisfying to sneak that tidbit in: how, with the help of the Math teacher who taught on the floor below my English room, I filed a grievance and got the theatre restored. However, the main conflict in the story arose from differences in philosophy of education. When I began teaching in the seventies, I was hired as an English teacher, but, because of my stage experience, was assigned drama classes. Traditionally, these had been held in an ancient portable unit where the noise level was least likely to intrude on academic classes. Drama classes in recent years had been improv sessions where students were encouraged to let it all out as exuberantly as possible.
I resolved to change that. If I had to teach drama, students were going to study stagecraft and voice projection, and what's more, they were going to learn lines. The students rose to the challenge, and before the year was out, my enthusiastic troupe was itching to attempt a full-length production. Rather than use the stage in the gym, with its poor acoustics and lack of ambience, I asked the principal if we could convert our portable into a studio theatre where I could double-cast plays, mount longer runs and provide more opportunities for students to showcase their talents. Having got the okay, we scrounged the necessary equipment, and with help from janitors and shop teachers, converted the portable into a fifty-seat studio theatre. An exciting two years followed and the program was a great success.
However, when a new Principal arrived the following year, he, like Miss Dolmas, was all for free-expression and questioned my structured classes. Also, like Miss Dolmas, he was gone within the year, but not in the drastic fashion depicted in my story. And, to be fair, before he left, he changed his tune and admitted that he was impressed with our program. Still, the memory of that initial confrontation gave me the stimulus for the "misadventure" in my plot. So thank you, Moonlight and Misadventure. It was great fun being able to relive those experiences in my story. Fiction is always full of truths, and it's deliciously satisfying to use those moments to drive a plot.
Oh, and one point that didn't make it into the story, though I relished the memory all the same: The Math teacher who advised me to file a grievance—he and I will be celebrating our 45th wedding anniversary this December.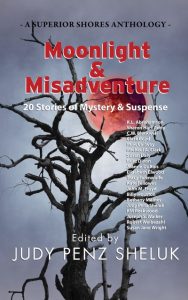 Whether it's vintage Hollywood, the Florida everglades, the Atlantic City boardwalk, or a farmhouse in Western Canada, the twenty authors represented in this collection of mystery and suspense interpret the overarching theme of "moonlight and misadventure" in their own inimitable style where only one thing is assured: Waxing, waning, gibbous, or full, the moon is always there, illuminating things better left in the dark.
Featuring stories by K.L. Abrahamson, Sharon Hart Addy, C.W. Blackwell, Clark Boyd, M.H. Callway, Michael A. Clark, Susan Daly, Buzz Dixon, Jeanne DuBois, Elizabeth Elwood, Tracy Falenwolfe, Kate Fellowes, John M. Floyd, Billy Houston, Bethany Maines, Judy Penz Sheluk, KM Rockwood, Joseph S. Walker, Robert Weibezahl, and Susan Jane Wright.
Click here to find it at your favorite retailer.
Moonlight, Misadventure and Memories of a Drama Teacher