Max was not the only pet who was recreated as an Elwoodettes Marionette. His friend, Miss Brandy, who stars in many shows with him, was also a real dog. The two walked together daily and shared many exciting adventures together, both off stage and on, including a grand romp to rescue Santa Claus in our production of King John's Christmas.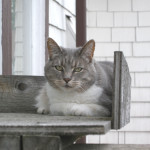 Max's arch foe, Minx, the Manx, is alive and kicking, and her feud with Max was as lively off stage as on.  Minx was a stray who was determined to live with us in spite of the feisty husky who occupied the premises.
Any cat willing to take on Max had to be tough, and we had great fun recreating their antics in our shows. Minx even played a double role in The Christmas Present of Christmas Past – her feisty self in the 'Present' and the empress's cat, I Clawdia, in the scenes from Ancient Rome.
Max and Minx's predecessors, George and Beanie, appear as the pets' guardian angels in The Cinderella Caper. The real-life George and Beanie were amiable and well behaved pets, unlike the real-life Max and Minx, so the contrast made for great fun with their onstage counterparts.
Caesar, the mean tabby who appears in Guard Dog on the Spot and Guard Dog on Show,  was also a real cat and really did whack Max on the nose. In puppet form, Caesar was a perfect villain, and even branched out to play Puss, Bad Dick's pantomime cat, in The Highwayman's Christmas.
Last, but not least, Christmas Bunny from The Magical Christmas Forest and Egg Detector was a real live rabbit that belonged to Brandy's owner, Edna Lotocky. CB was a cute brown lop-eared bunny who derived his name from being found in a snowpile on Christmas Day and adopted into Edna's home. Lucky rabbit!
Over his lifetime, Max was the star of fifteen of the twenty Elwoodettes shows and made more than 100 bows with his puppet on the stage of the Bernie Legge Theatre. Nine of the Max shows were Christmas productions, some illustrated here, along with our wishes for a Merry Christmas and a happy festive season!
Merry Christmas from Max and the Elwoodettes Marionettes!