If you think Marley was difficult, you should have met Max.  A rescue dog with a difficult past, his antics kept us on our toes, and many people dined out on 'Max' stories over the years.  "Max and the Christmas "Light-bulb", "Max and the Work-sock", Max and the Fish Guts", "Max Swims Out to Sea", "Max Busts out from Backstage"—the list goes on and on.  Needless to say, he was a dog who had adventures.
Max was a husky, shepherd cross with some wolf in the mix, not to mention an Alpha male personality, and we soon discovered that our new pet was more than we could handle.  He wasn't a big dog—more husky than shepherd, with short, stubby legs and a barrel chest—but he was strong as the proverbial ox.  After our first walk, where I found myself towed behind Max and facing the alternative of either breaking into a sprint or having a dislocated shoulder, I realized that I needed a trainer—a dog trainer, that is, not a personal trainer to improve my running skills.  Fortunately, I found the person I needed in Gary Gibson, who very quickly taught me some techniques to show Max who was boss.  It was so appropriate that Gary and his wife Kathy's company was named "Canine Corrections".  The title was a reference to the wonderful dog-training program that Kathy established with the inmates of the women's prison at the Fraser Foreshore, but it was certainly an appropriate title when it came to training Max.  Gary very quickly established some ground rules that brought my feisty white husky into line, but he also acknowledged that, with Max, there would always be some degree of negotiation.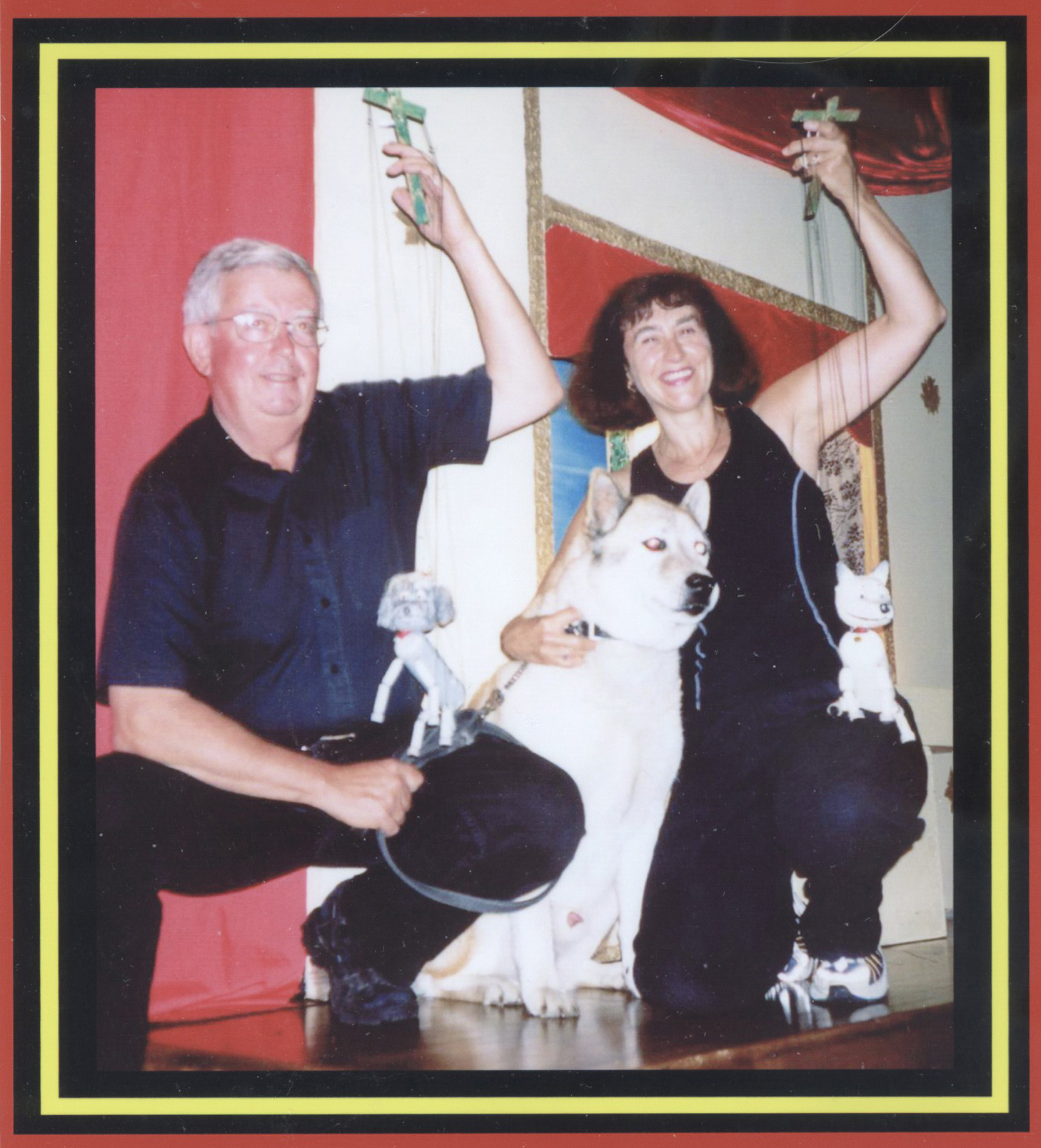 Gary was the one who told us that Max needed a job, and after a while, we realized we had the perfect role for him within our puppet company. Once the Max marionette was created and became the star of many of our shows, Max became part of the show, waiting backstage during performances, and then joyously coming out to bow or demonstrate his tricks with his puppet after the final curtain. Feisty, he was, but how he loved being part of the show.  As Gary said, many years later, after Max had passed away: "He was more dog than most."
Because of his unpredictable nature, Max demanded far more of my time and attention than any other dog I've ever owned, but because of this, the two of us became very closely bonded over the years.  I still miss him, and I take pleasure in having his personality live on through my artistic endeavours.  Not only was he the inspiration for Max, the Ho Hum Husky, the lovable star of 14 of our 20 marionette musicals, but he also lives on as MacPuff in my Beary Mysteries Series, even if his appearances there are often as fleeting as the movie cameos of Alfred Hitchcock.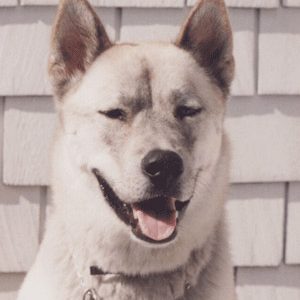 I have always wanted to write Max's story, and I have the perfect title—Strings Attached —which reflects how close we were and the part he played in our marionette company.  However, since my plays and mystery stories bumped this project to the back of the line for several years, the 'dog blog' served in the interim to tell the tale of my rescue dog with an attitude, Max, the Ho Hum Husky. Finally, this summer, Max's project came to the front of the line and I'm now polishing up manuscript that will tell his story in book form. Watch for updates early next year.
Meet Max, the Ho Hum Husky