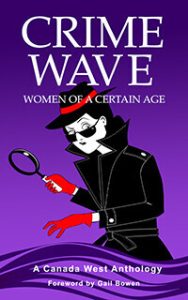 Please join me on Wednesday, October 19, at 5:30 p.m. Pacific time for the official launch of Crime Wave: Women of a Certain Age.
My story, titled "The Fair Rosamund and the Summer of Love, is one of 16 mysteries and crime stories in this, our second Anthology, so I hope you can make it!
The event is free, online via Zoom, and open to all, but you do have to register here:
https://sinc-cw.ca/upcoming-events/
I think you'll love the Anthology, but if you're not sure, here are SIX good reasons to grab your copy of the Anthology. Oh, and you can even win a free copy, just by showing up!
You'll hear a handful of our contributors read from, or talk about, their short stories, and get some insights from Anthology Committee Members on some of the processes that go into creating an anthology from the ground up. Many of the anthology authors will be there, and I hope you will be, too!  Here's a link to our video: https://youtu.be/UrCd8UBjA1Q
Again, it's free and you don't even have to dress up to join in! Hope to see you there in a couple of weeks!
Join me for our book launch: Sisters in Crime – Crime Wave 2