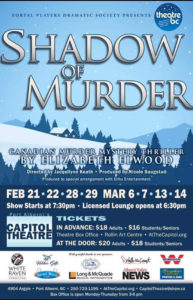 The Morton family suffered a tragedy when their daughter was the victim of a serial killer. Two decades later members of the family gather at the Marshlands Hunting Lodge, where unbeknown to them, two people are present who are connected to the earlier crime. A storm causes landslides that render the access road impassable, and before long, another murder takes place.
Vancouver Island's Portal Players will be presenting Elizabeth Elwood's Shadow of Murder, Friday and Saturday evenings at Port Alberni's Capitol Theatre from February 21 to March 14. Directed by Jacqollyne Keath, this will be the second production of the murder mystery play, which is set in an isolated hunting lodge in a mountainous area of British Columbia. An entertaining thriller with lots of twists and turns, Shadow of Murder received high praise at its New Westminster premiere in 2011 and promises to provide another exciting evening of theatre with this fine new production.
Second production of Shadow of Murder coming soon.