On the day after Katie's (and Max's) birthday, Marcella came to church with us.  After the service, Hugh and I dropped the girls at the mall and continued out to Sasamat Lake to give Max his weekend hike.  En route we turned on the news and were shocked to the core to hear that Elwood Veitch had died of a heart attack the day before.   He had only been sixty-four.   Slim, as he was nicknamed by his friends, was one of the last of the old-time politicians.  A Socred MLA and Cabinet Minister, he spent many years as the representative for Burnaby-Willingdon.
I had run to Slim many times for assistance with projects for the Burnaby Arts Council and the NorthWest Opera, and he had helped me through the mazes of red tape with good humour and diplomacy.  His wife Sheila was also active in politics.  She had served  on the Burnaby School Board and Burnaby Council, so she had also helped us with various problems and concerns.  Sheila, Slim, and Mayor Bill Copeland were all great arts supporters, and had even agreed to take part in the opening night of NWO's Mozart/Salieri production.  Slim was no longer sitting as an MLA, but he had declared his intention of running for mayor for the BVA in the upcoming civic election.  This was no mean challenge, because Burnaby traditionally supported the BCA, and the incumbent mayor was Bill Copeland, the popular and likeable former fire chief.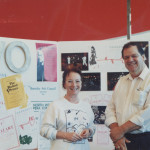 You may wonder what all this political chat has to do with a dog blog.  Well, dogs, bless them, were what introduced me to the world of politics.   If it hadn't been for canines, I would have never been a candidate in an election—and probably never created the character of Bertram Beary either.  My husband has always been interested in politics, but me, not so much so, although I was always ready to get involved if an issue arose that I felt strongly about.  And, as anyone who read this dog blog knows, I care about dogs.   How did my four-legged friends draw me into the political arena?  That's a story in itself.
Many years before, when Caroline was a toddler, we combined our daily walk with a trail hike for Beanie, followed by a visit to the playground for Caroline.  One day, we were standing at the top of Robert Burnaby Park, chatting with the grandfather of two of Caroline's playmates.  Beanie was sitting decorously beside me.  I had not yet leashed her as we had just come off the trails.  To my horror, a uniformed man came bounding down from the road and promptly gave me a ticket.  Having grown up walking in West Vancouver's Lighthouse Park where the bylaw had simply stated that dogs must be under control, I was extremely taken aback.  My dog was under control and I was very indignant to be slapped with a fine.  I asked the pound officer where I could walk my dog off leash in Burnaby, and he replied, "Nowhere."  This incident sparked two battles.  The first, and most immediate, was my determination to fight the ticket.  The second, which became a protracted and arduous struggle, was to make Council alter the bylaw and establish areas where dogs could get proper exercise.
But first, the ticket.  I did my homework carefully.  I researched judgments that followed the intent of the law, as opposed to the word of the law; I dug out examples of more friendly bylaws from other jurisdictions; and I photocopied a series of dog-association reports on the health/exercise needs of canines.  By the time I went to court, I had an impressive pile of documents worthy of a criminal lawyer defending a murder charge.  Also, being a well-brought up young woman who was respectful of appropriate dress codes, I wore a suit, hat and full makeup.  The neighbor who had witnessed the issuing of the ticket accompanied me, just in case any conflicting statements emanated from the pound officer's mouth.  When I got to court, the judge turned out to be a very jolly Afro-Canadian who gave me an encouraging smile as soon as I took my seat.  I like to think he was smiling at my appropriate appearance, but in hindsight, he was probably trying not to laugh out loud at the massive pile of documents I had assembled to fight a dog ticket.  I sat down, feeling comforted by his benevolent manner.
However, when the pound officer rose to speak, my equilibrium was shattered.  To my amazement, he described an entirely different scenario from what had really happened.  My jaw dropped as I listened to him recounting how Beanie was roaring about the field in an uncontrolled manner and had not been called to my side until after the ticket had been issued.  Naïve as I was, I assumed that people told the truth when they were under oath.  I was very glad my neighbor had come along.  But as it turned out, I didn't need him.  The judge, noticing my dangling jaw and bulging eyes, must have decided that the pound officer was telling porkies.  My friendly judge smiled again, then turned back to the pound officer and asked if he could definitely identify me as the woman he had talked with in the park.  To my surprise, I saw a flicker of doubt in the pound-man's eyes.  Then I clued in.  All the people who know me love to joke about my extreme forms of dress.  It's either glamour to the nines, or total grubbery, and, of course, my dog-walking apparel falls into the latter category.  The pound officer hesitated, said he thought I was the same woman, but then admitted that he couldn't be 100% certain.  At this point, the judge turned to me and told me that I had two options.  I could either take my turn to speak and defend my position, or I could keep silent and he could throw out the case on the grounds of lack of identification.  All that homework for nothing—or perhaps not for nothing.  The judge was probably quailing at the prospect of hearing me blather on for the rest of the afternoon.  I was certainly not foolish enough to look this gift horse in the mouth.  Meekly, I thanked him and sat down again.  The case was won.  I didn't have to pay.
The second battle was not so easily won.  It turned into a municipal-wide civil war.  My attempts to get the dog bylaws adjusted brought out every dog hater in the community.  Soon, dog lovers and dog haters were signing petitions and bombarding councillors with phone calls and letters.  It was then that I discovered that the manipulations of bureaucrats and elected officials really were as farcical as depicted on shows like Yes, Minister.  At the time, it was very stressful; in hindsight, it produced my story, "A Political Tail" in which a dog-hating bureaucrat was murdered in a dog park.  My forays to Council did not achieve the desired result for many years, but they did bring forth another unexpected result.  Interested people in both civic associations were desperate for candidates who could speak well in public, and the next thing I knew, both groups had asked me to run for Council.  They didn't care about the dog issue, but they used it to lure me in.  If I were elected, I would have more influence.  By now, I was sufficiently furious that I decided to go for it.  Not wanting to be aligned with any particular party, I chose to run with the non-partisan BVA, and almost made it to Council on my first try, ending up only a few votes behind Sheila Veitch.  However, after the next term, the BCA swept the Council, led by popular Bill Copeland, so my subsequent attempts went nowhere.  However, we finally got our dog areas and at the time of Slim Veitch's death, I had already indicated that I was not going to run again.
Famous last words!  Now that Slim had died, the BVA had lost their high-profile mayoralty candidate.  I was well known due to my arts activities, and I had the name, Elwood, so the bright sparks on the board decided that I'd be a good replacement.  Only two days after Slim died, Bruce Clark dropped by our home and tried to twist my arm into stepping into the BVA mayoralty slot.  Bruce is the brother of Christie Clark, the current B.C. Premier, and Hugh and I had known both of them for many years.  Their father, Jim, had taught with Hugh and was a frequent visitor to our home, being known as Uncle Jim to our girls.  Jim even recorded vocals for us in the early days, and though those first shows were ultimately re-recorded and upgraded, Jim's voice is still there delivering a booming Ho Ho Ho in one of our Christmas shows.  Jim was lifetime Liberal who loved 'the game of politics, and he instilled this enthusiasm into Bruce and Christie.  However, politics wasn't a game to me, and I became very frustrated at the wheeler-dealing and skullduggery that went on behind the scenes.  I didn't have the fight in me to spend my life in that arena, so I wanted to take my experiences and use them as fuel for my writing.
I pointed out to Bruce that Bill Copeland was so popular that there was no way I could win; therefore, they should forget about the mayor's slot and concentrate on getting the councillors elected.  Bruce, like his sister, is a master manipulator, and he knew how to win me over.  He told me how the young, forward-thinking candidates on the slate were going to be held back because the old-timers who wanted to try for the mayor's slot were potential embarrassments to the group.  I wasn't taken in by his arguments, but I did know some of the young candidates, so had a certain sympathy for them.  Hugh loved the idea of me running, and joined up with Bruce to persuade me.  Jim Clark also stepped in, offering to act as my personal assistant to take the pressure off me during the campaign.  Finally, to get them to back off, I said I would agree, but only under the following conditions:   No involvement until the end of October when our Halloween shows were over, no financial contribution, no engagements I didn't want to attend and no restrictions on whatever I wanted to say.  I figured that would be the end of it.
The nominating meeting was four days away, and I tried to get on with my life.  The girls were very sweet, trying to help me feel human with cozy family times.  One day, I came home from my walk to find Caroline had baked Pillsbury rolls for breakfast.  What a lovely surprise!  However, enjoying those moments was easier said than done due to the pressure of visits from BVA members, calls from reporters who had been leaked the info that I might run, and subtle hints from Hugh that I could have a lot of fun promoting things I cared about if my conditions were accepted.  By this point, I was feeling stressed and the unconditional love I received from Max was very soothing.  Fortunately, he was being a good boy and not adding to my worries, so my dog walks (since in those days, there were no cell phones) became my solace.  One day, I walked Max early, but turned my ankle and fell in the woods.  He was so worried, poor puppy.  Puff, puff, lick lick.  He wouldn't leave me until I was back up and walking normally again.  I think he sensed that his owner was having a hard time.
September 23 was the day of the nomination meeting.  I hadn't heard back from the committee by 4:30, so I breathed easy and decided I was off the hook.  But then came the phone call.  My terms had been accepted and Bruce was on his way over with the nomination papers.   I raced upstairs, prepared a three-minute speech, signed on by five o'clock, bolted a light meal, changed into real clothes and set off for the hall.  A few speeches, a vote, followed by an interminable count, and I was declared the BVA mayoralty candidate.  My old friend and sparring partner, Vic Stusiak, was happy, but my sense was that my colleagues were deluding themselves that they could win back a majority.  The times and the Burnaby demographic were against them. However, having taken the task on, I resolved to do my best in my sacrificial lamb role, and if nothing else, expected it would provide me with an interesting experience to look back on.  And to think, it all began with dogs!
Next:  Campaign Dog.
Episode Twenty-Two: What those darn dogs got me into!